Dear Titans: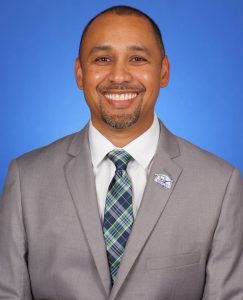 Hello Titans!  My name is Ricardo Cooke and I have the honor of being the principal for our amazing school. As a member of this community, I will do everything possible to make your child's experience at Eastlake High School a memorable one.  We boast a rich tradition of excellence in academics, the arts, athletics and activities.  I believe there is something for every student at this school.  I am here to serve our community.  I will work with our talented staff to make our school an inclusive, supportive and positive place for each student. You will find our staff to be professional with a focus on positive service.  To better assist you, we ask that you familiarize yourself with the school website. You will find valuable information including the week at a glance section for planning purposes and policies and procedures.   We also encourage you to learn to use Jupiter Grades to communicate with your teachers.   You can always email me directly or call the school with questions, concerns and/or comments.
Each new school year presents an awesome opportunity to accomplish new goals, meet new people and to start exploring life after high school. Our counselors, teachers, administrators and classified staff are here to help you and your students during this journey. In order for us to become stronger partners and advocates for each other, I do ask parents and guardians to please consider some of the professional norms that I expect of our staff:
Assume Positive Intentions. We are here to do our best and at times there can be miscommunication or misunderstandings about expectations. Engage in a positive and professional dialogue with your concerns. We will provide our students and community members with the Titan Expectations Handbook at the beginning of the school year. Please familiarize yourself with the policies and procedures.
Seek Solutions Together. We are committed to a constructive and positive partnership. Often, there is information that we are not privy to concerning your student. Let us use our resources at school to assist you and make accommodations to the best of our ability. We are a team. I will host regular Coffee (sometimes Pizza or Carne) with the Principal. This is also a great time for your voice to be heard.
Stay Involved. We hope you will join us regularly at school events and be a part of our parent-teacher organization. Continue to ask your students what they were learning, how they learned it/demonstrated mastery and why they were learning it. Check in about social and emotional needs – We have tremendous resources to assist as needed. Your students need you no matter what they might say!
You and your child matter to me and to this staff. I promise to give you my best in creating positive and lasting memories at Eastlake High School. You are a part of a tremendous legacy.  Help us to improve every day. I look forward to our time together and as always, Go Titans!
In Service,
Ricardo Cooke, Ed.D.